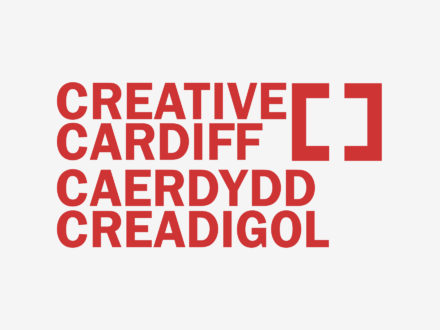 Working with the Creative Cardiff Network, we commissioned four creative practitioners to create pieces of artwork on the theme of AMR.
These pieces were displayed in the 'ART LAB: Art of Antimicrobial Resistance' exhibition that was held in Chapter during the Cardiff Science Festival 19th-22nd February 2022. See our event page for more photos of the exhibition.
The Artists and Commissioned Works
Drew Copus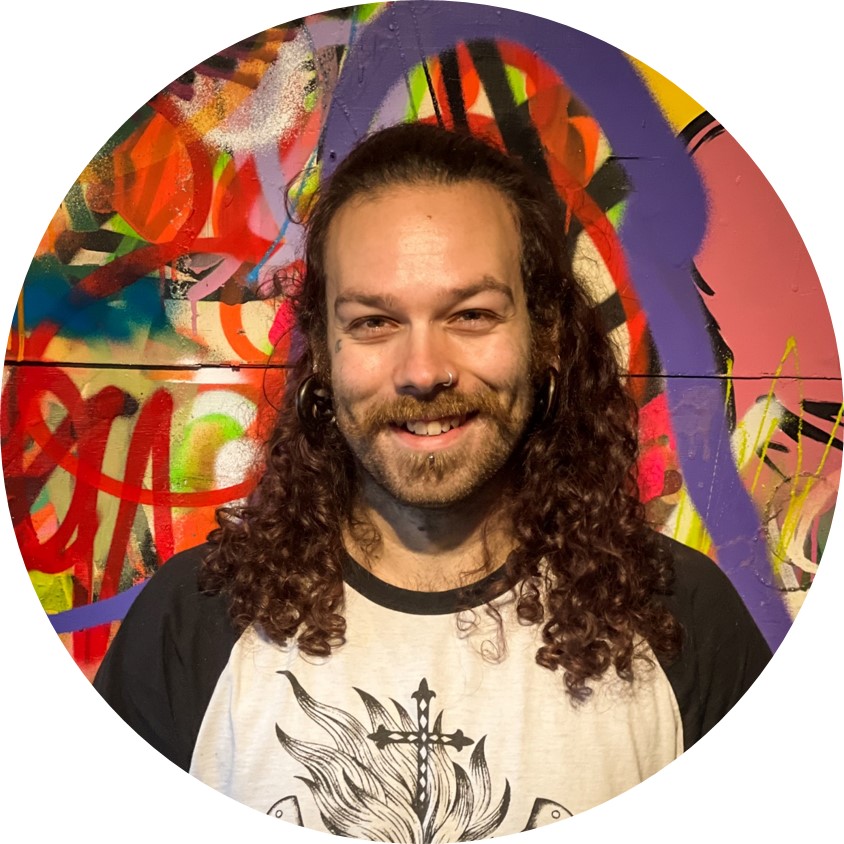 Drew (Droobie) is a street artist residing in the coastal town of Hastings, UK with his dog Spike. His work can be found all over the walls there and neighbouring towns, including murals featured on the BBC and New York Times.
Painting, drawing and spray painting from an early age, Drew has been creating artwork all his life. He has a fascination with insects, which he uses in his work extensively. It's his mission to bring attention to the small and seemingly unimportant in nature. Drew enjoys playing with colour and scale, having fun in his work to achieve this.
Drew is honoured to be part of ART Lab on the topic of antimicrobial resistance (AMR), as he has drawn a natural link between his environmentalist focused subject matter. Viewing AMR as an engine of sorts, he hopes to break down the complications of AMR in a fun and engaging response for the viewer to enjoy.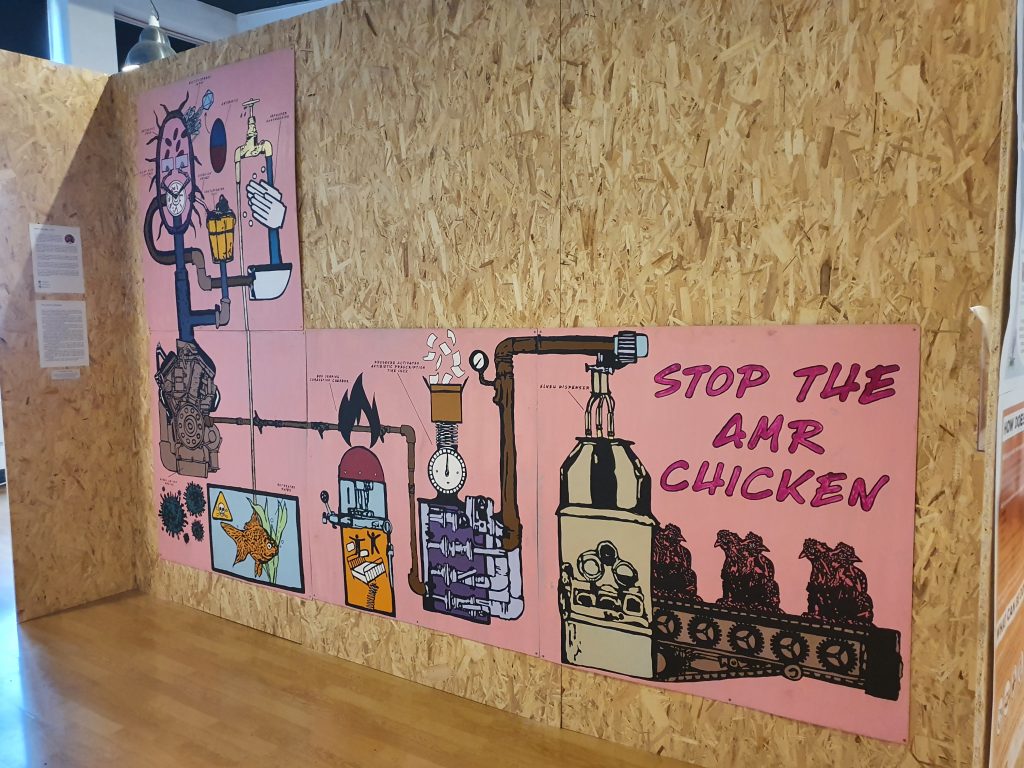 'The Law of Contagion'
This work is initially inspired by images I found of agar plates. As I studied them it became obvious there was a deeper connection being presented. I was fascinated at the survival of life, how the smallest things in nature are so magical when observed.
I research a lot of occult and esoteric history. A common ideology is the circle and its representation as the womb. A shape with no beginning or end, yet whole and paradoxical in existence. There was something about this thought that made me look at the agar dish as a man made clock of sorts. A magical plane that breeds life, safe inside its own environment.
I envisioned the ticking clock and the thought struck me that AMR is a paradoxical problem, one that is sped up greatly by all of us. As it turns out a doomsday clock became a key phrase brought up in the research meetings on this project.
My thoughts led me to a question: What could the "engine" of AMR look like? Would it have a singular goal in mind and if so what would be the outcome? The work needed a level of absurdity to match the complexities of AMR. My vision was to target key areas of AMR anthropomorphically, as to visually represent each contributing gateway of AMR. Seeking visual inspiration in my mountain of books, I found that the Ripley Scroll, written in 1624 a 6 meter long alchemical manuscript that shows how to make the philosopher's stone provided a framework.
I was also inspired by the visual link of engine patents and anatomical drawings and as such I have annotated areas of the engine. I have purposely decided to keep these as brief as possible, so the viewer may come to their own understanding of what each of these devices relates to.
Deciding upon the end result of this engine, there was a connection between the use of antibiotics in farming, the machinery we use and the supply and demand chain of food and medicine that contributes to AMR. The colour palette of pinks and purples references the colour of the stains used to visualise bacteria under the microscope.
Creating a mascot of sorts, I present to you The AMR Chicken. A laboratory pink monster double headed mutant mascot.
Heloise Godfrey-Talbot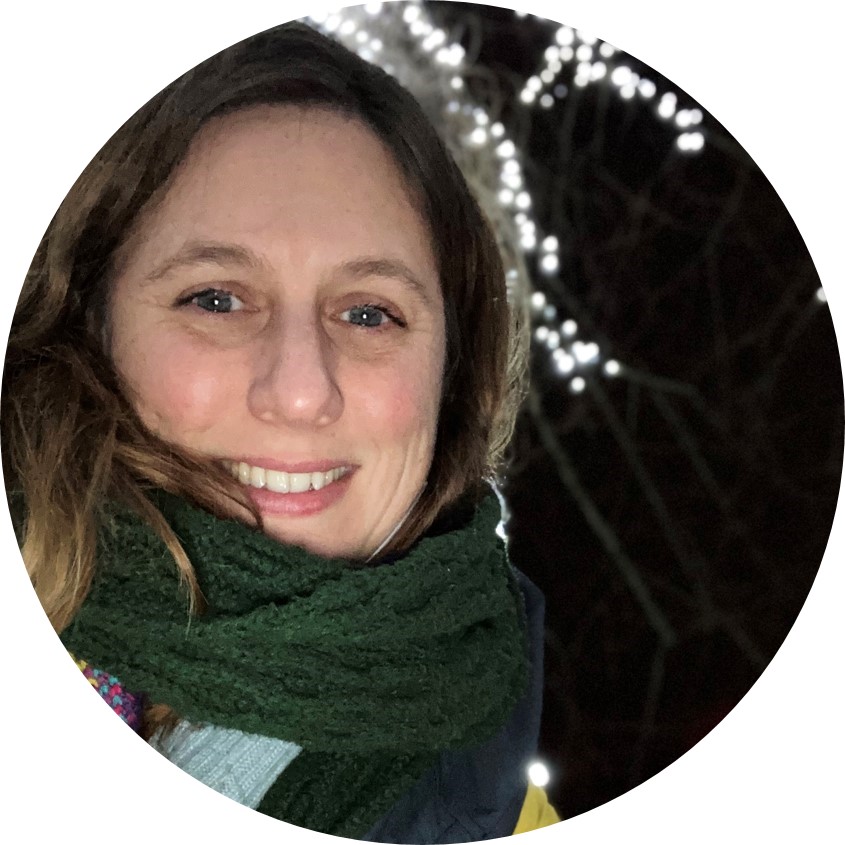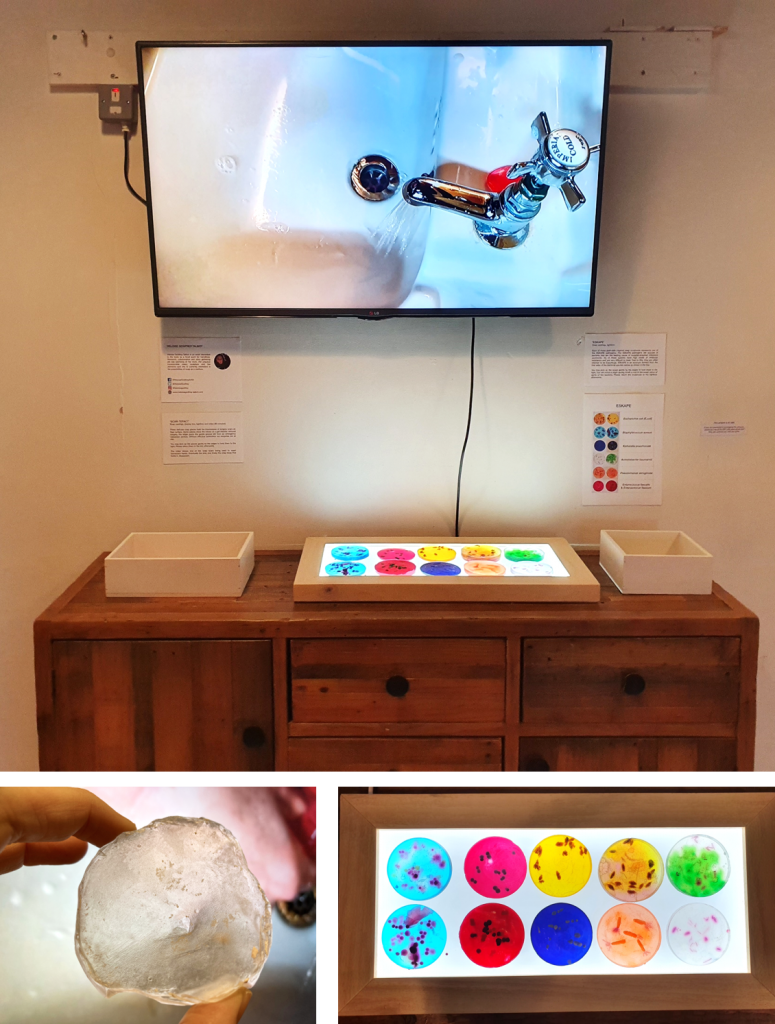 'SCAR-TEFACT' (soaps in left box, bottom left photo and video)
These delicate soap pieces hold the impressions of surgery scars on their surface. Some pieces show the traces of a gall bladder removal surgery (bottom left photo), the larger piece the gentle groove left from an emergency caesarean section (not shown). Without effective antibiotics our surgeries are at risk.
The video shows one of the soap scars being used to wash someone's hands. Eventually the scar, and finally the soap body that holds it, disappears.
'ESKAPE' (soaps in right box and on light box)
Each of these petri-dish inspired soap sculptures represents one of the ESKAPE pathogens. The ESKAPE pathogens are species of bacteria that are the leading cause of hospital-acquired infections worldwide. All of these species have high levels of antibiotic resistance and are very difficult to treat. Due to this, they are often referred to as Superbugs. ESKAPE is an acronym formed from the first letter of the bacterial species names as shown in the key (picture below). The soaps have a slight appley smell, a nod to the sweet odour of some of the bacteria.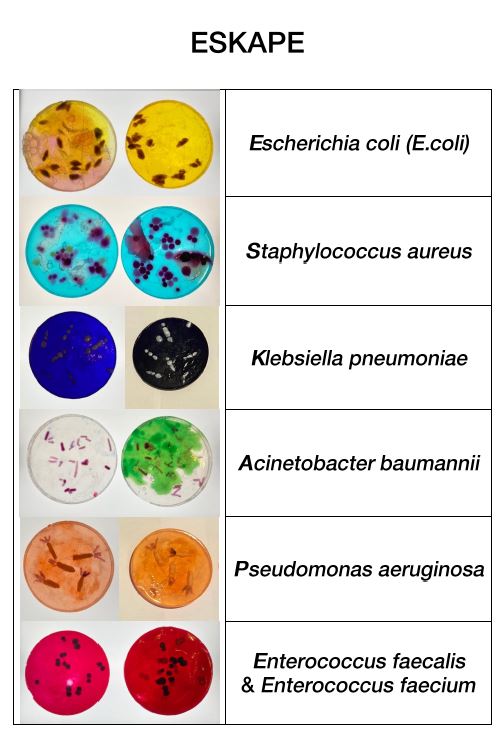 Jill Powell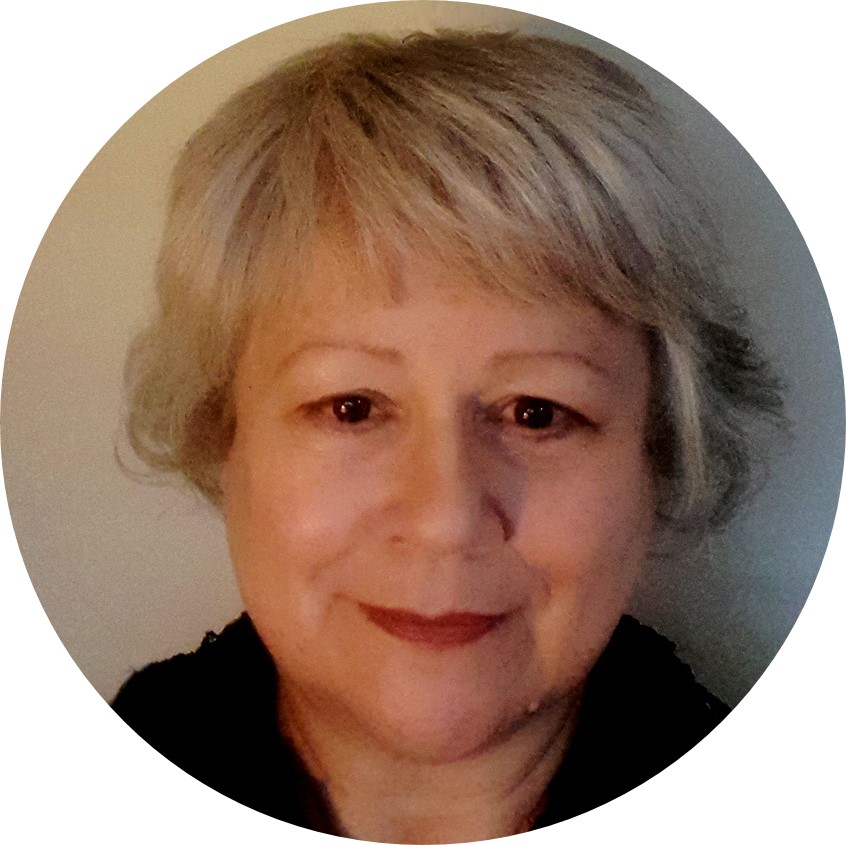 Jill Powell is a mixed media, neurodiverse artist living in Cwmbran Gwent. On leaving school, she went to Nevill Hall Hospital's Bacteriology Department where she trained to be a Medical Laboratory Scientist. On qualifying with a H.N.C in Medical Laboratory Sciences from Bristol Polytechnic she moved to The Royal Gwent Microbiology Department where she worked as a qualified Biomedical Scientist and took part in their On Call rota for out of hours emergencies. After having children, she worked in a variety of different laboratories that had hours to fit in with raising a family e.g., Parke Davis Pharmaceutical Laboratory as a chemical analyst and The Forensic Science as a blood room technician.
Later in life, she became unwell and had to give up work for several years. On the road to recovery, she started life drawing and painting. This led her on to completing a National Diploma in Graphic Design at Pontypool Tertiary College and then a BA(Hons) in Art Practice at the University of South Wales in Pontypridd.
Her artwork is often surreal in nature having evolved from her feelings and dreams. It has incorporated humour, sculpture, animation, the exploration of alternative realities and recently the illustration of a poetry book with an accompanying Exhibition of the artwork. She took part in Tom Croft's Portraits for Heroes Exhibition with an oil painting of an ICU nurse from Oxford and her beloved dog. Over the pandemic she has been taking online Graphic novel courses with The Royal Drawing School in London. She is an active member and supporter of Disability Arts Cymru.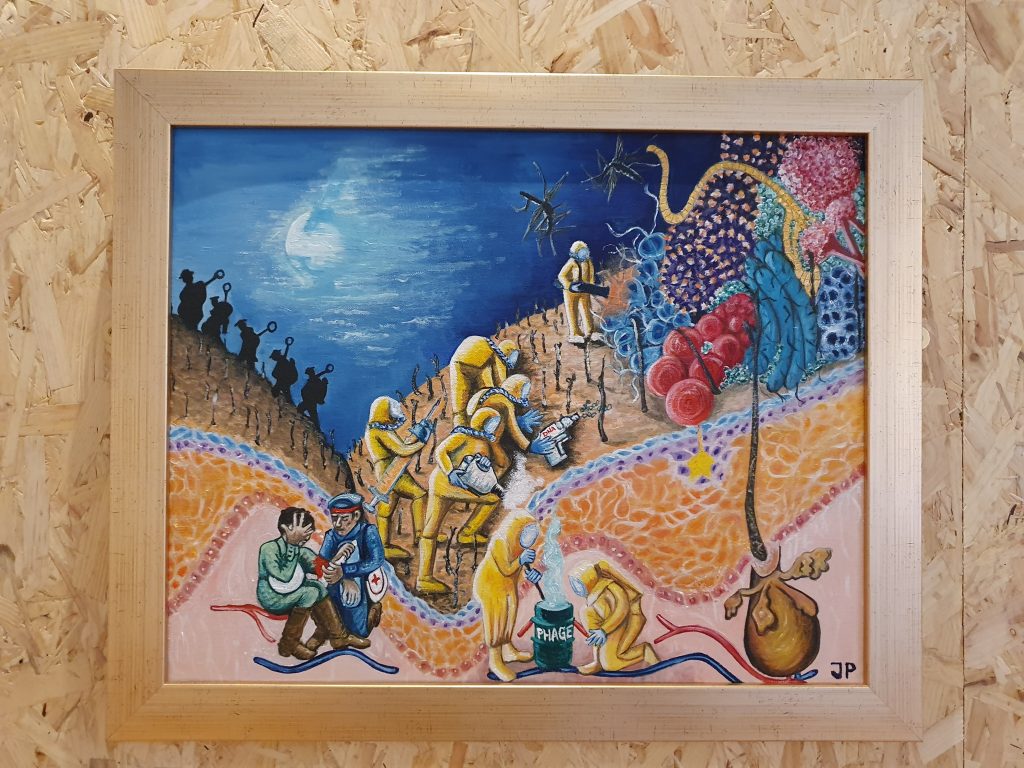 'Over The Top' (oil on canvas)
'Over The Top' aims to highlight the growing threat of antimicrobial resistance (AMR) facing the world today. It is set in a surreal backdrop of an AMR World War three where the trenches are the epidermis of the human body.
An army of dangerous antimicrobial resistant microbes are shown in giant form coming down the hill. These include MRSA (methicillin-resistant Staphylococcus aureus), Clostridium difficile, COVID-19, Aspergillus and Giardia lamblia with mosquitos carrying malaria parasites flying above.
In the bottom left, two antibiotics dress their wounds and console each other as above a legion of defeated Microbiologists leave the battlefield.
The future of the fight against microbes lies with the hazmat suited figures who make use of DNA gene guns, vaccinations, fogging machines and bacteriophages.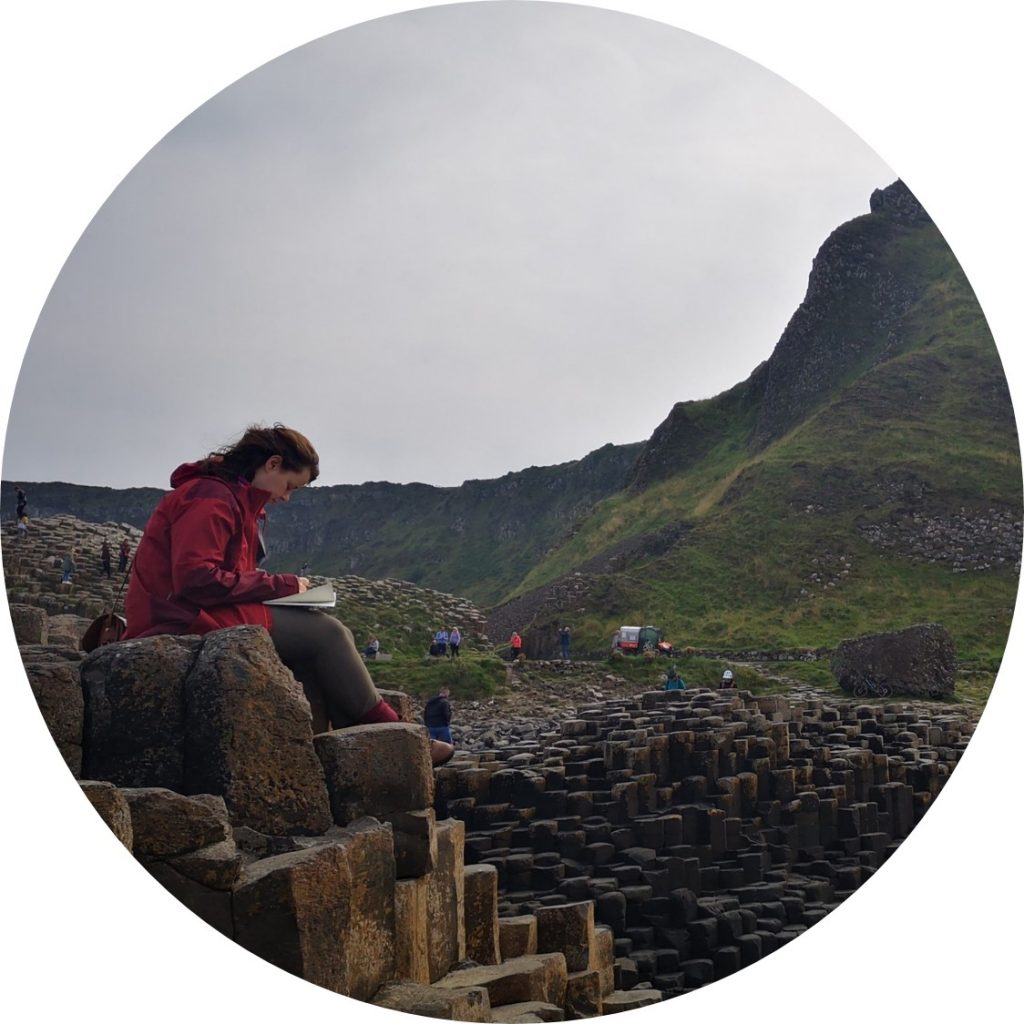 Charlotte Hepburn is an artist, illustrator and printmaker based in Presteigne. Charlotte illustrates using a range of different media, including pen and ink, pencils, gouache paints and even digital media. She also likes to mix different media together. Charlotte regularly makes use of different materials in her work – including book pages and grass – and enjoys the challenge of using a limited colour palette. Charlotte likes to produce quirky, playful work and loves adding humour into her work. She regularly experiments with a range of printing techniques, including linocuts and risographs. Charlotte tries to capture the magic in the mundane and keeps a sketchbook with her at all times to scribble down anything fun and interesting she sees.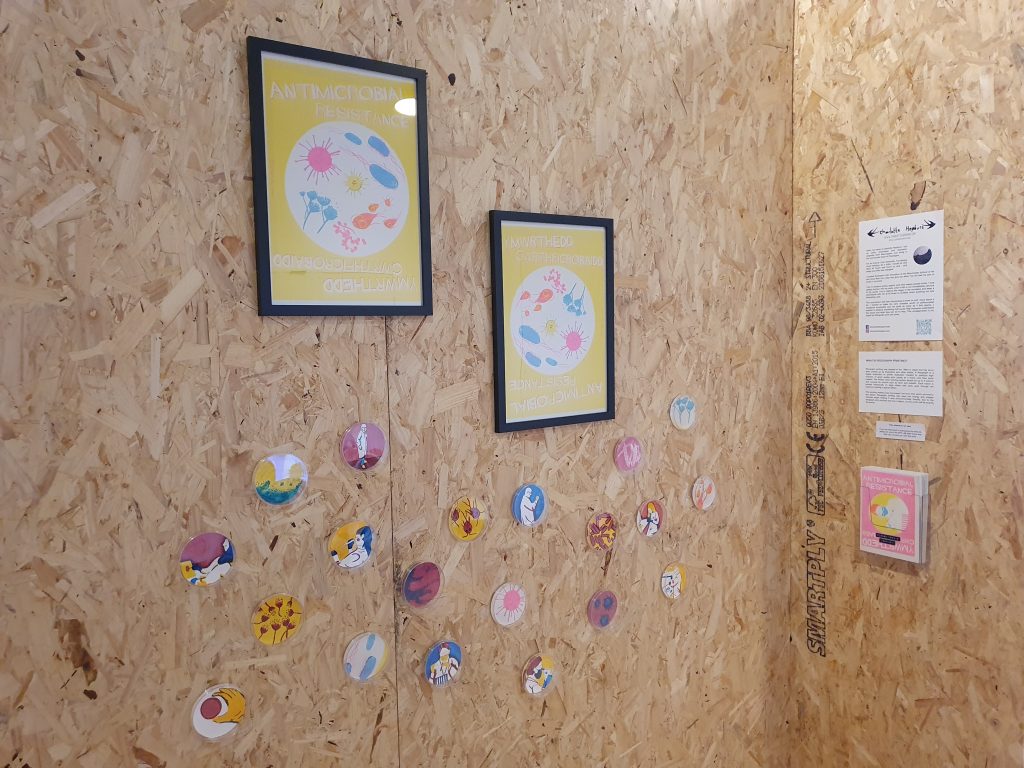 RISOGRAPH PRINTS, PETRI DISH ILLUSTRATIONS AND BILINGUAL ZINES with information about antimicrobials and antimicrobial resistance. View the zine in action in our Instagram post.
This commission has been fascinating to work on and I have learnt a lot. I wanted to make the very complex world of antimicrobial resistance accessible and not quite as scary as it first seems. I wanted to produce something that would help everyone understand the issues and what they can do to help. This amalgamated in my bright fun Risograph print and zines.
RISOGRAPH PRINTING
Risograph printing was created in the 1980s in Japan but has since been picked up by illustrators and other artists. A Risograph is a digital duplicator or printer duplicator created to produce high volumes of good quality print copies at a lower cost than toner copiers. The limited colour printing system allows for up to 4 colours and unusual ink colours such as neon and metallic. Each colour is printed individually on large rollers with each pass through the machine creating a layered effect.
This printing method uses soy-based non-toxic inks which are kind to the planet. Risograph printing also uses low energy and creates minimal waste making it very environmentally friendly. Due to the risograph print process and how it aligns, no two prints will be exactly the same!